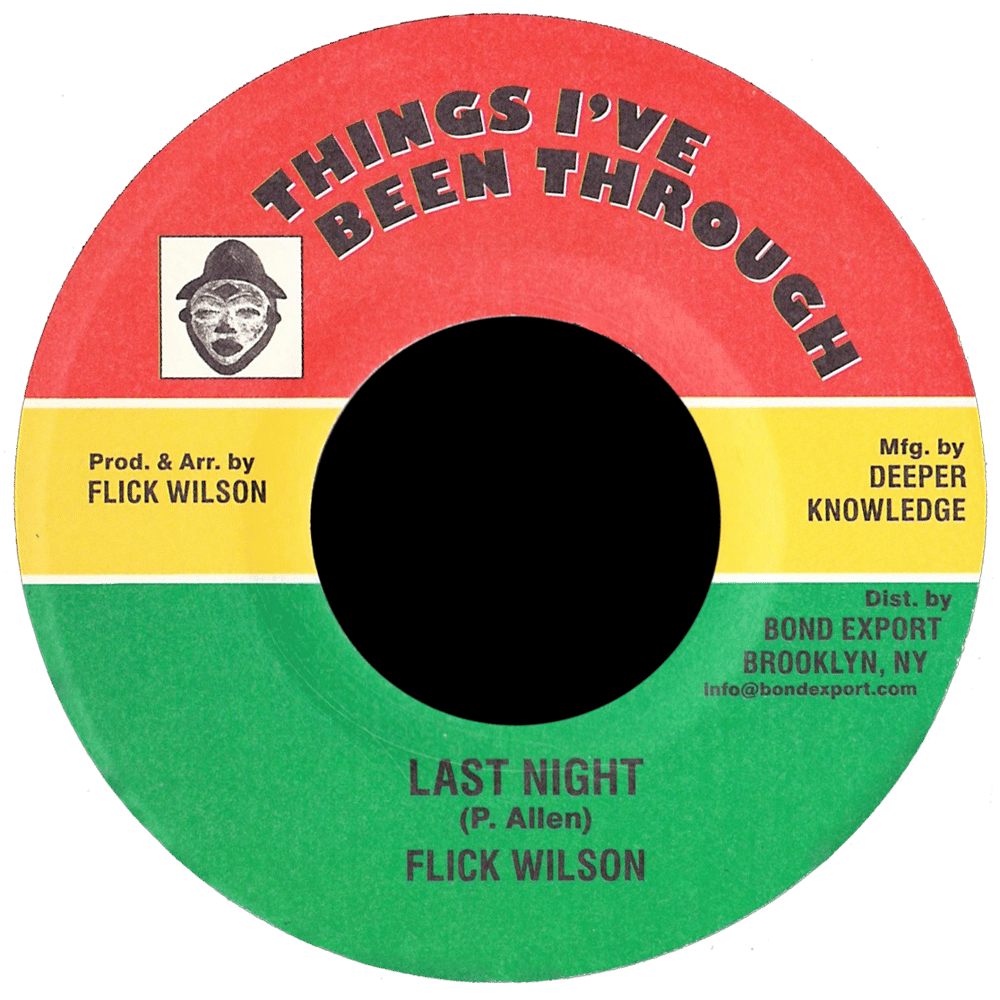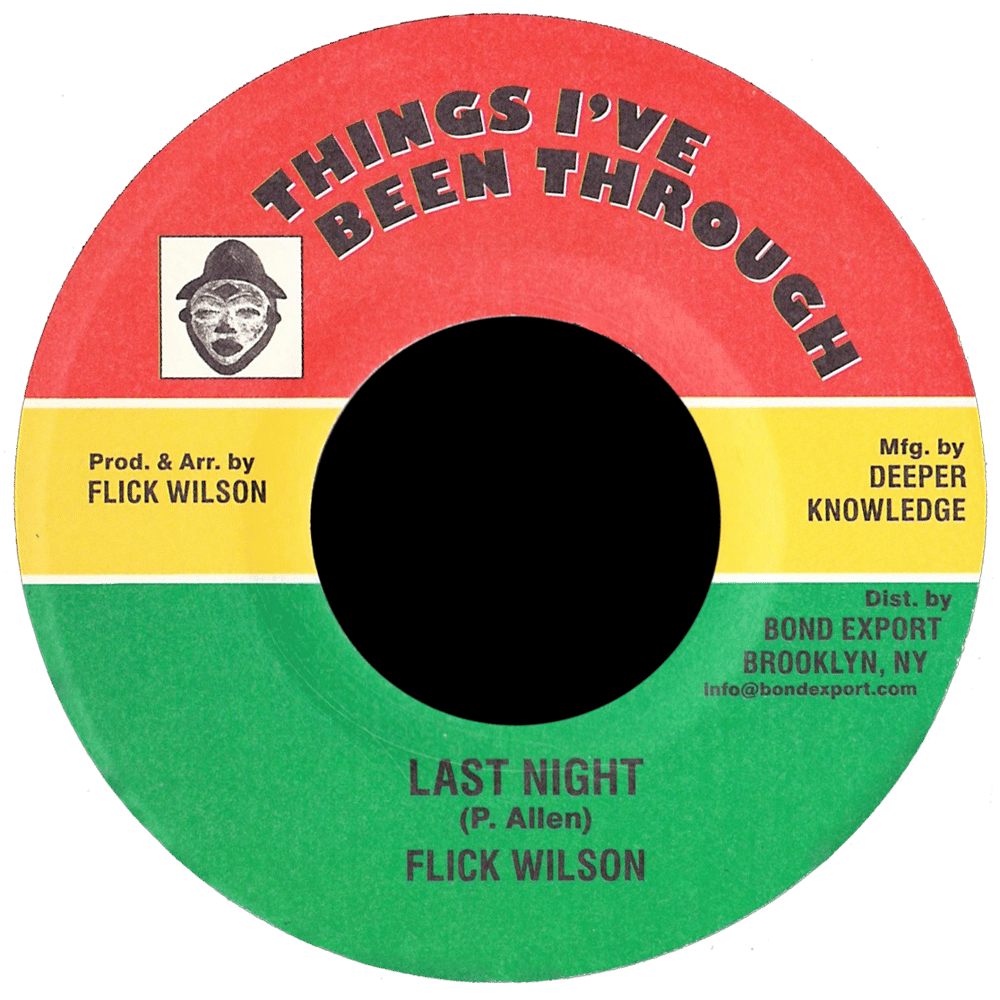 Flick Wilson - Last Night 7" (Things I've Been Through)
by Dandy Lion and Flick Wilson
$7.00
Flick Wilson - Last Night / Version 7" (Things I've Been Through)
DKR-160
same rhythm as DKR-063-JJ and DKR-161.
Flick Wilson is one of our favorite artists, one of the many unsung greats of the fertile early 1980's dancehall period, his awesome falsetto making him stand out amongst his contemporaries. His fantastic album produced by Jah Life & Junjo Lawes was reissued as part of our Jah Life reissue program (still available, see here!). Overall, Flick didn't do much recording though, and cut only a handful of singles outside of that album. Talking with him after we re-released the album, we solved a mystery, something we had a hunch about for a little while...that Flick Wilson is in fact Dandy Lion, of "Vives" ("Vibes") fame, the awesome tune released in 1984 on the Kulumi label! The story goes like this...as part of his payment for voicing the "School Days" album, Flick received some rhythms on tape from Junjo, to use for some self-productions. Not quite having the funds to pay for recording, mixing and pressing, Flick partnered up with some "area man" who wanted to do some producing themselves (in the role of financiers), those being 'Shadow' Paul Sutherland and Oliver 'Kulumi' Miller. Flick went into the studio and did three tunes using two of the rhythms. These were of course, 'Last Night' (originally released on Sonic Sounds' Gorgon label, with no credits!), "Vibes" (typo'd on all copies as "Vives"!), and "Two Youths Have a Quarrel." The latter two came on the Kulumi label, with "Two Youths..." coming out in 1988, four years after the release of the other two, which were met with very little sales in 1984. But why was he called Dandy Lion when he already had an album and other singles to his name as Flick Wilson? We were eager to know, and that's a story too. Despite the album (which was only released in NYC!) and a couple of JA singles, Flick was still a relatively unknown singer trying for some acclaim in 1984. So he went to audition for Errol "ET" Thompson at Joe Gibbs' studio. ET liked Flick's voice and decided to do some recording with him, as he was voicing some young singers at the time, for some of their new labels, like E.T. and Rocky 1. Flick voiced a handful of songs for ET, two of which were released, "Haul and Pull Mi Selector" on ET, and "Lyrics Doctor" on the Rocky 1 label, named after Joe Gibbs' son Rocky. But ET wouldn't abide the stage name Flick Wilson being on the tunes, as that name had already been used by Ruddy Thomas (an associate and also sometimes engineer at Gibbs' studio) since the mid '70s. So ET gave Flick another stage name, Dandy Lion! And so the tunes were released as such. So when it came time to release the first Kulumi tune, Flick and Oliver gave that one the name Dandy Lion as well, hoping it would get recognized on the strength of his tunes for the big producers ET & Gibbs, which had also just hit the market. Unfortunately, none of these tunes met with much commercial success. But like so many other great tunes that fell thru the cracks, over the years, astute collectors and listeners latched on to them and gave them the credit they deserve. DKR re-presents all 3 tunes on Flick Wilson's new label named Things I've Been Through, these tunes of his past representing his struggle to make it in the tough JA music business. "Last Night" is backed with the same tough dub cut as "Vibes", as unfortunately its original dub, which was only ever available on dubplate, is now lost. A couple final notes, due to a manufacturing error, "Two Youths Have a Quarrel" was not ready for release this month, but trust us, it's a total missile, one of the heaviest tunes of the early '80s, with an extremely wild and raw dubplate-style dub from Scientist on the B-side. All going well, it will be released next month. So hold tight, and for now enjoy these two cuts! Lastly, even if you have bought the previously available bootleg issue of "Vibes", we ask you to consider buying this issue (yes, it's that good of a tune!), fully authorized by Flick Wilson aka Dandy Lion. Thanks!