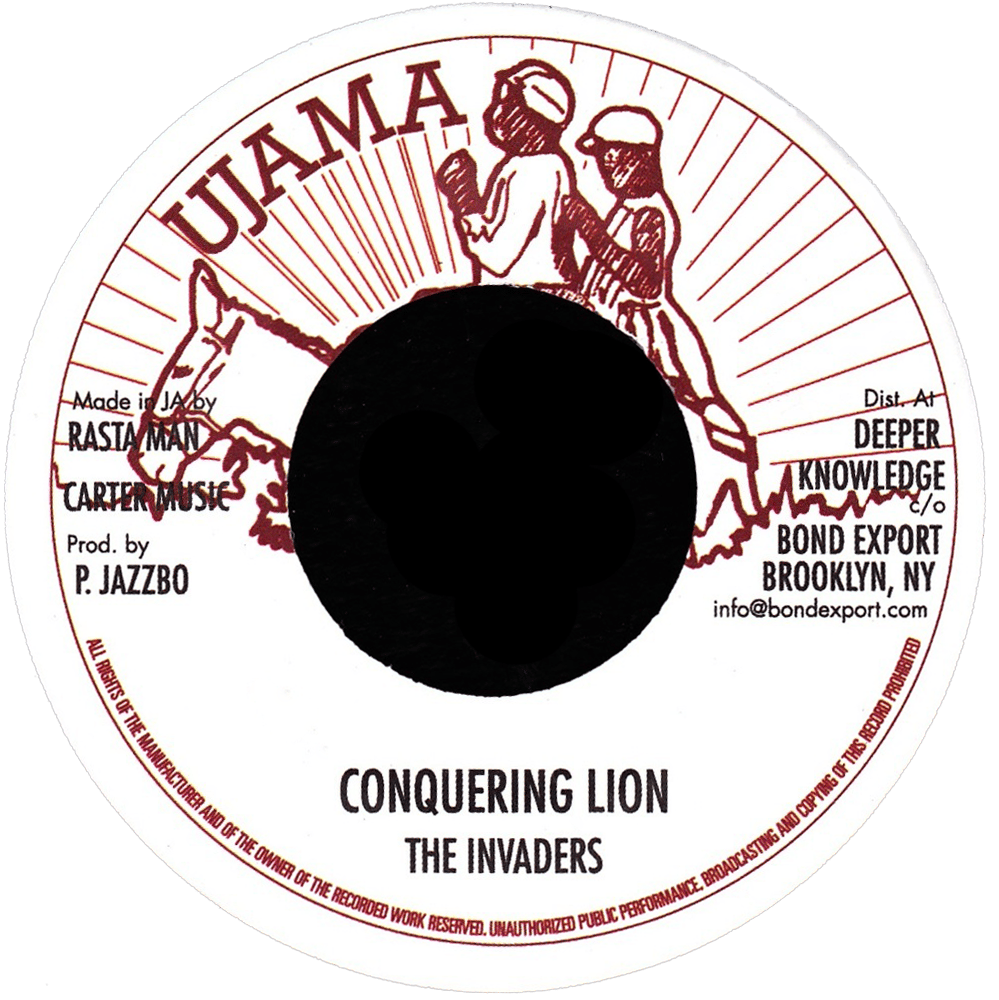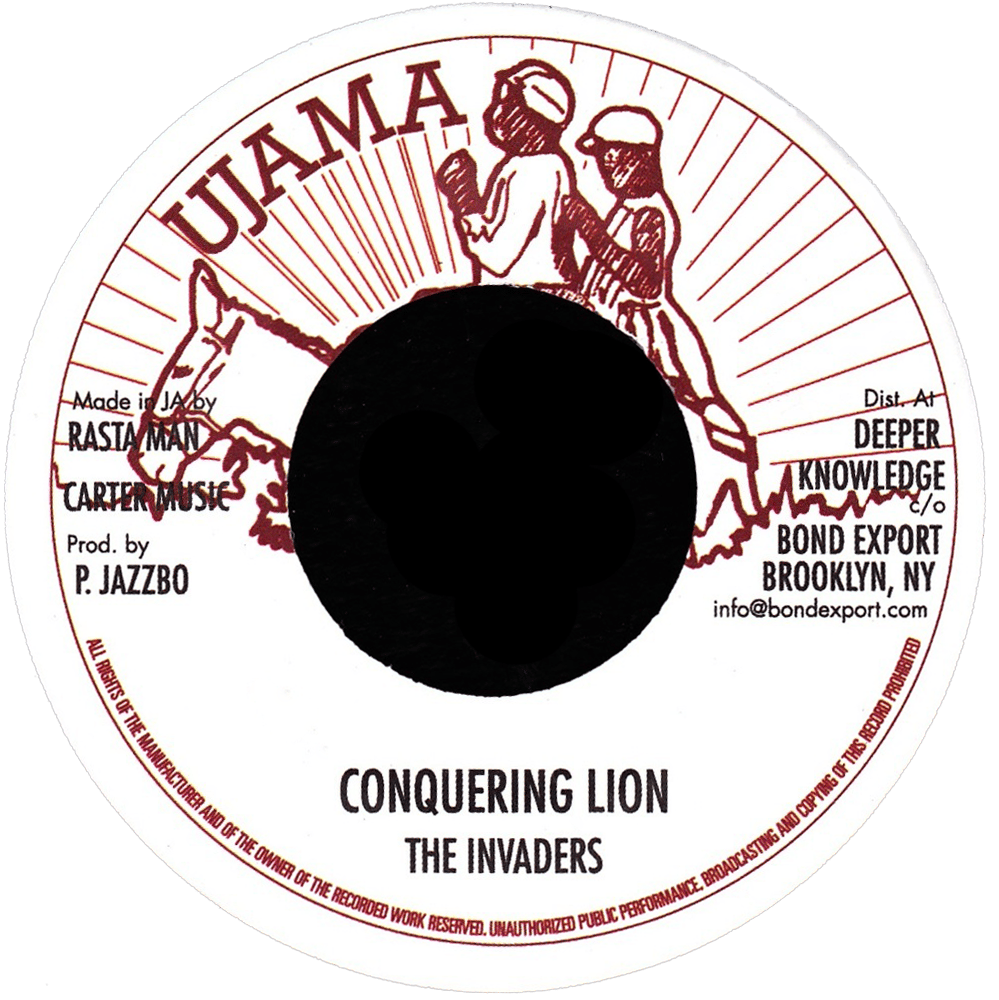 Invaders - Conquering Lion 7" (Ujama)
by Invaders
$7.00 / Sold Out
Invaders - Conquering Lion / Version 7" (Ujama)
DKR-136
vocal previously unreleased.
same rhythm as DKR-135, DKR-137, DKR-148 and DKR-149.
A great reggae mystery, now solved! The infamous "Conquering Lion" dubplate as played by Coxsone sound, revealed! Like most who hear it, we became entranced with this infamous and awesome tune after hearing a recording of its famous broadcast on David Rodigan's Capitol Radio show, by Coxsone sound selector Festus. He announced the tune as being sung by Lloyd Ruddock, "King Tubby's from Jamaica's brother." That man of course, is better known as Scunna, the original force behind the Jayes, who had a string of massive hits in late '70s for Channel 1, like 'Queen Majesty' and 'Truly.' As Scunna is also now a Brooklyn native, we checked him to find out more about the tune. But what we found out was simple...he didn't sing it! So the mystery endured, for the moment. Until a couple years later, when a friend of ours came across a fantastic (and fantastically rare!) blank pre-release single from Jamaica, and it helped crack the case. The single was an awesome and previously unknown (to almost all, it seems!) vocal on the same riddim as 'Conquering Lion', and the voice was unmistakable, one of our favorite artists...Naggo Morris! Immediately after hearing this tune, we were eager to find out more, and like many mysteries of Jamaican music, the matrix number on the blank label 45 helped tell the tale. The matrix bore the name of another friend of ours, none other than legendary deejay and producer Prince Jazzbo! Naturally, we immediately checked Jazzbo about it, and the mystery was revealed! Jazzbo confirmed that he indeed produced the Naggo Morris tune, at the same time as the more well known "Clean Hands" 45 which appeared on his Brisco label. But this tune, called "Bootlegger", was only ever pressed in a miniscule quantity as a blank label pre-release, managing to elude most collectors of JA music for nearly 40 years! And we found out that Jazzbo did indeed produce two other cuts on the same rhythm, by The Invaders, a harmony group from Greenwich Farm and Trenchtown! One cut, "Conquering Lion" was given by Jazzbo to the then-young Coxsone sound system in London, for play and promotion on the sound. Over the years and through the Capitol Radio broadcast, the tune became legendary. The other cut, "Heaven & Earth" was released in Jamaica for the Invaders on their own new Invader label. With all this information at hand, the next move was clear. We did what it is that we do, and here now you have all three tunes on crisp 45s! Another interesting footnote to these tunes which perplexed collectors over the years, is that the dub side of the Naggo Morris 45, which is a melodica cut to the rhythm, is known to some via a mis-press from the time of it's original release. The B-side stamper for the Naggo Morris tune was accidentally used as the B-side to Sir Harry & Jah Woosh's "Way Down West" 45 on the Sir Harry label. The label states "Difendon Version" by Sir Harry All Stars, but due to a mistake at the pressing plant, the record plays the dub to "Bootlegger". This dub is also featured as the b-side to 'Conquering Lion', as we unfortunately could not locate a unique dub for this tune, though we think one surely existed so many years ago. Prince Jazzbo would also like to acknowledge the late great King Tubby, without whom these tunes would not be possible. All three were voiced and mixed by the King himself, making these yet another piece of Tubby's indelible legacy. Lastly, two further cuts on a slightly different take of this rhythm, by Big Joe and Tony Brevett, will be released a short while later this year, to complete the version excursion.